Peak Pairs Analysis (PPA) is a DigitalMicrograph plug-in based on the procedure developed by Pedro L. Galindo of University of Cadiz. PPA offers peak intensity analysis and local strain map calculation from standard HREM images. PPA is a complementary plug-in to GPA (Geometrical Phase Analysis) for another strain measurement plug-in.
Since the PPA handles the peak positions directly (in contrast to the GPA), we can analyze the relation between peaks, say the distances and angles (see Distortion Analysis).
Distortion Analysis from v4.0 Read More
Non-Local Average module (the NLA module license is requires) Read More
Flyer/Specifications
Manual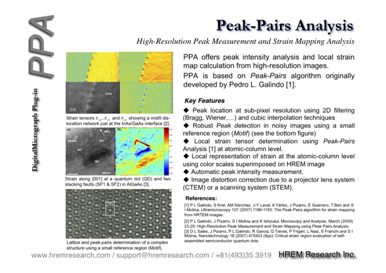 References and Technical Notes (*Basic Readings)
Examples (Sample Data)
Download
You have to purchase a license (hardware key) to run this program.
Please send your price enquiry to support@hremresearch.com.
Required plug-ins.
User Key Driver
Previous versions
HREM News
Please Subscribe to the HREM News to get latest information on this plugin.
Note: If you have already subscribed to the HREM News, please don't subscribe again.