Multivariate Statistical Analysis (MSA) is a DigitalMicrograph plug-in based on the program developed by Masashi Watanabe.
MSA for Gatan DigitalMicrograph finds statistically significant features from 2D and 3D spectrum images gathered by spectrometric techniques such as XEDS, EELS, EFTEM and cathodoluminescence.
Flyer/Specifications
Manual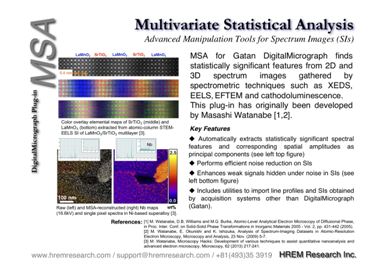 References and Technical Notes (*Basic Readings)
Examples (Sample Data)
Download
You have to purchase a license (hardware key) to run this program.
Please send your price enquiry to support@hremresearch.com.
Required plug-ins.
User Key Driver
Previous versions
HREM News
Please Subscribe to the HREM News to get latest information on this plugin.
Note: If you have already subscribed to the HREM News, please don't subscribe again.