PRESS RELEASE
April 28, 2016
sMoire for DigitalMicrograph
Higashimatsuyama, Saitama, Japan (April 28, 2016): HREM Research Inc. has announced that the STEM Moiré Analysis plug-in (sMoire) for DigitalMicrograph will be released on May 1, 2016. The sMoire allows strain analysis to high accuracy from a single or a set of moiré images obtained by using STEM (Scanning Transmission Electron Microscope).
A Moiré pattern may be artificially generated in STEM by choosing the scan step (ds) close to the crystalline periodicity (d). The sMore measures fringe deformation from a single Moiré pattern using the technique developed for the GPA (Geometric Phase Analysis) for DigitalMicrograph. Furthermore, the sMore can calculate two dimensional strain maps using two geometric phases in a similar way to HoloDark (Dark-field Holography for strain) for DigitalMicrograph.
gWe have a series of strain measurement plug-ins for DigitalMicrograph (GPA, PPA and HoloDark),h says Dr. Kazuo Ishizuka, President of HREM Research Inc. gThe sMoire is the forth plug-in for strain measurement. Since atomic resolution STEM becomes increasingly popular these days because of ease of its operation, we believe the sMoire will become a major technique for strain measurement.h
About HREM Research Inc.
Founded in 2001, HREM Research Inc. specializes in developing products and services that enhance High-Resolution Electron Microscopy (HREM). Dr. Kazuo Ishizuka, the founder of a company has established the procedures for HREM image simulation. Thus, a company's flagship product, xHREM, is a de facto standard of HR-(S)TEM image simulation software. Currently, HREM Research Inc. is actively working on making useful techniques to be available for the HREM community. For more information, please visit https://www.hremresearch.com or contact support@hremresearch.com.
Contact:
Kazuo Ishizuka
HREM Research Inc.
14-48 Matsukazedai, Higashimatsuyama
355-0055 JAPAN
Supplementary materials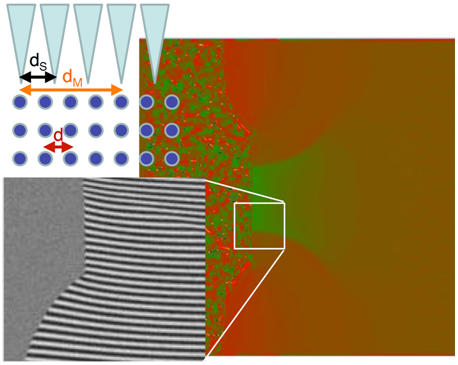 Strain map obtained from a STEM Moiré image. Artificial STEM moirés (dM) are created in a STEM by deliberately choosing a low magnification where the scan step (dS) is close to the crystalline periodicity (d).