PRESS RELEASE
March 31, 2014
Jitterbug for DigitalMicrograph
Higashimatsuyama, Saitama, Japan (March 31, 2014): HREM Research Inc. introduced Jitterbug for DigitalMicrograph at the end of March 2014. The Jitterbug corrects instability of probe scanning system (scan noise), and restores resolution before degradation, and improves image quality. Furthermore, the Jitterbug corrects drift of scan image of crystalline materials using periodicity of the sample.
Procedures of Jitterbug have been developed by Lewys Jones and Peter Nellist of University of Oxford [1], and may be well applied for a scanning system, such as a scanning transmission electron microscope (STEM). In STEM, instabilities at high frequencies will result in so-called escan-noisef, and this is clearly seen in the jagged/torn columns of the atomic resolution dark field image shown in the left half of the figure below.
It is now possible to observe these characteristic distortions and to mitigate their effects using the Jitterbug. The magnitude of the scan-distortion at each point is determined by comparing the region about each pixel with neighbouring scan lines above and below. With all the distortions diagnosed, it is possible to restore an image with significantly reduced scan-noise as shown in the right half of the figure. In this example, image resolution was improved from 88.7pm to 75.1 pm (15.3% better) and SNR was improved from 2.04 to 3.76 (84.3%) [1].
[1] L. Jones and P.D. Nellist, Microscopy and Microanalysis 19 (2013) 1050–60.
About HREM Research Inc.
Founded in 2001, HREM Research Inc. specializes in developing products and services that enhance High-Resolution Electron Microscopy (HREM). Dr. Kazuo Ishizuka, the founder of a company has established the whole technique for HREM image simulation. Thus, a company's flagship product, Mac/WinHREM, is a world leading HREM image simulation software. Currently, HREM Research Inc. is actively working on making useful techniques to be available for the HREM community. For more information, visit http://www.hremresearch.com or contact support@hremresearch.com.
Contact:
Kazuo Ishizuka
HREM Research Inc.
14-48 Matsukazedai, Higashimatsuyama
355-0055 JAPAN
Supplementary materials
<![if !vml]>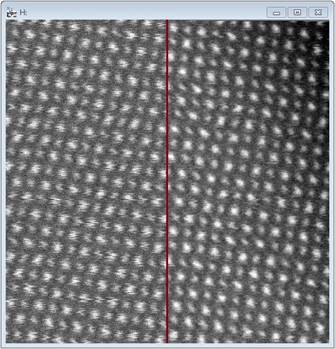 <![endif]>
Dark-field STEM image of [100] oriented SrTiO3, before scan-noise and drift correction (left) and after (right). In the left half of the image, the atomic columns appear jagged and torn and the square symmetry of the crystal lattice is heavily sheared. (image width = 5nm)